AWC Awards
All profits from AWC activities go to its charitable work in giving the following awards:
Philanthropy award (annually) to a project in or near Copenhagen
Scholarship award (every three years) to Danes wishing to study in the US
Cultural awards (every three years) to Americans living in Denmark
Philanthropy Award for 2012 - Landsforeningen Præmatures Vilkår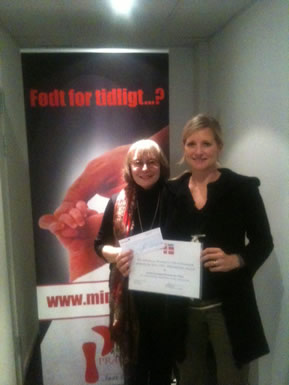 Landsforeningen Premature Vilkår (LPV) received AWC's Philanthropy Award for for their outstanding work in supporting families who experience prematurity.
Approx. 4,600 premature children are born each year. Not all of these infants are physically or mentally affected by their early and harsh start in life, but for the many who are, science-based knowledge is essential for a good childhood and beyond.
LPV's support may be in the form of physiological help and/or actual help in interpreting and utilizing the social laws, help to self-help and general information of having a premature child.
Just as important, disseminating information to all the people who are in contact with premature children, e.g. courses, lectures, booklets are LPVs primary information sources.

AWC's award of DKK 12,000 will help LPV to increase their scope of information. These funds will be used to create and implement an APP where users can quickly access relevant information on premature children.
The photo above shows Joan Oppenheim, chairwoman of the AWC Philanthropy committee presenting the award to Karina Rothoff, Næstformand of Landsforeningen Præmatures Vilkår.
Philanthropy Award - Recipients from the last ten years
Look Good…Feel Better (courses for women who are in out-patient treatment for cancer)
KRIS Kristen Rådgivning for Incestofre og Seksuelt misbrugte www.kris-dk.dk
Dansk Kvindesamfund Krisecenter i Vodroffsvej www.dkkrisecenter.dk
Heart Pillow Project for women with breast surgery www.heartpillow.dk
Blågårds Kirke "Meals for the Needy"
Muhabet (Meeting place for immigrants and refugees with psychological problems www.muhabet.dk
Drys Ind , the oldest day center in Denmark www.drysind.dk
Support Group for Late Brain-Damaged Children
Alexandra Collegium , for single mothers in education programs
Hjernesagen Copenhagen & Frederiksberg, Afasi Center  www.hjernesagen.dk
Volunteer Center, Vedbæk, installing smoke alarms for elderly people's homes
SIV Children's Home in Farum
SOVI, for autistic people www.sovi.dk
Danish Council of Alcohol & Addiction DCAA
Handicap OL
Rehabilitation Center for Torture Victims
School for the Deaf