FAWCO


Federation of American Women's Clubs
FAWCO News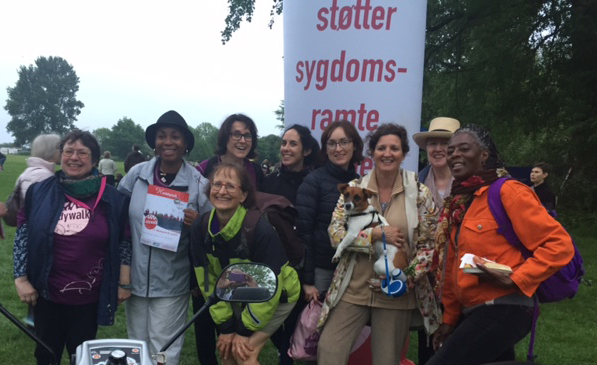 Team AWC Denmark, weary but charged ladies... and a dog, celebrate crossing the finish line!
We hope to make this anannual event.
On May 29th, members of AWC Denmark, plus friends, participated in Ladywalk 2017. Ladywalk is Denmark's largest one-day sporting event for women... with 12 participating sites around the country. According to one of the organizers, 7000 women participated in Copenhagen, alone.
Funds earned by the event support women stricken by specific illnesses, this year's funds go to The Heart Foundation and the Polycystic Ovarian Syndrome Society. AWC has contributed 2500 DKK to Ladywalk through its support of this event.
AWC Denmark has also earned money on this activity through sponsorship of the walkers, themselves. As of this moment, I know of 1500 DKK in sponsorship already pledged that will go to AWC's FAWCO Target Project, Hope Beyond Displacement from the Collateral Repair Project. Watch this summary of the project in a 10 minute video: https://www.youtube.com/watch?v=IJ_dPl3StZw&feature=youtu.be
Next month I will provide an update on exactly how much AWC earned on the Ladywalk and will contribute to the FAWCO Target Project.
Ladywalk has run since 2001 and takes place annually on the last Monday in May... next year's Ladywalk will take place on May 28, 2018. See you there!
FAWCO Region 2 Facebook
Don't forget to sign up for our Region's (Region 2) Facebook page.
https://www.facebook.com/search/top/?q=fawco%20region%202
Designing Women
Last, but not least, take a look at the new online FAWCO magazine, Designing Women, a Magazine Celebrating Lives Across the FAWCO World. The summer 2017 issue just came out and theme is "Designing Women". It's filled with profiles of FAWCO women all over the world whose work involves an element of design.
Designing Women wants to profile exceptional AWC women of every stripe. The themes of the Fall 2017 issue and the Winter 2017 issues are "Women in Education" and "Women in the Arts". Do you know someone who should be profiled? Contact us with your suggestions!
Remember that you are already a member of FAWCO with your AWC membership, but you must formally register on www.fawco.org to access all areas of their site. Read the latest issue of Designing Women at: https://www.fawco.org/about/publications/inspiring-women
Did You Know That  ...
FAWCO offers AWC members' children and grandchildren scholarships, as well as opportunities to explore the world with other young people. They do not need to hold USA passports to participate. See more about this on the FAWCO Foundation website.